With the changing safety guidelines due to COVID-19, CET is working on getting onsite labs up and running. There is an online OSHA 10 lab course available in the meantime and we will contact our ET students as soon as onsite labs are available. The office is still closed and staff can be reached remotely via phone and email. Online classes are continuing as usual with applicable deadlines. Our Spanish program is currently unavailable for new enrollees as the program is being transferred from onsite to a live webinar format.
2014 Simulated Exam -
$40.00
Continuous Education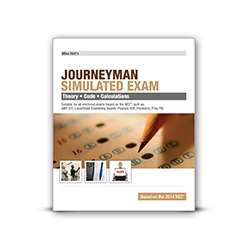 Test your knowledge in Theory, Code and Calculations with this Simulated Exam based on the 2014 NEC Book. Identify areas where you need additional study before you go to take your official Electrical Exam.


Part 1 - Electrical Theory (100 Questions)


Part 2 - National Electrical Code (105 Questions)


Part 3 - Electrical Calculations (65 Questions)


Back
Login