In consideration of the news of COVID-19 (Coronavirus) awareness and precautions, we have decided to close the office and postpone all our on-site labs and classes for the foreseeable future. Staff can still be reached remotely via phone and email. All online classes will continue as usual with applicable deadlines. We will continue to monitor the situation and we will send related emails and post updates when we know when classes will resume.
2014 Comprehensive library -
$1,000.00
Continuous Education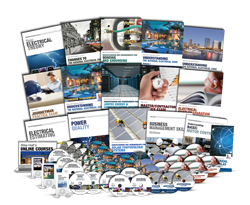 The Comprehensive Library is a complete course designed for your success. The program provides in-depth instruction for Theory and Code along with step-by-step instructions on how to solve electrical calculations. The instructional DVDs extend the learning with real-life practical examples, while the practice questions help you test your knowledge.
You will receive:
THEORY
Basic Electrical Theory Textbook


Electrical Fundamentals & Basic Electricity DVD


Electrical Circuits, Systems, & Protection DVD


Alternating Current, Motors, Generators, & Transformers DVD


CODE
Understanding the NEC Volume 1 Textbook
Understanding the NEC Volume 2 Textbook


General Requirements DVDs


Grounding Vs. Bonding DVDs


Wiring Methods DVDs


Equipment for General Use DVD


Special Occupancies DVD


Special Equipment DVD


Limited Energy & Communication Systems DVD


CALCULATIONS
Exam Preparation Textbook


Raceway & Box Calculations DVD


Conductor Sizing & Protection Calculations DVD


Motor & Air-Conditioning Calculations DVD


Voltage-Drop Calculations DVD


Dwelling Unit Calculations DVD


Journeyman Simulated Exam Workbook
Back
Login