With the changing safety guidelines due to COVID-19, CET is working on getting onsite labs up and running. There is an online OSHA 10 lab course available in the meantime and we will contact our ET students as soon as onsite labs are available. The office is still closed and staff can be reached remotely via phone and email. Online classes are continuing as usual with applicable deadlines. Our Spanish program is currently unavailable for new enrollees as the program is being transferred from onsite to a live webinar format.
2017 NEC Changes Part 1 and 2 -
$184.00
Continuous Education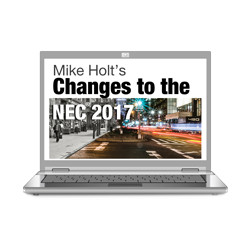 Learn the 2017 Code Changes in an easy to use online course.
This course will clearly explain the significant changes found in Articles 90-455 of the NEC including:


General Requirements


Wiring and Protection


Grounding versus Bonding


Wiring Methods and Materials


This course will also cover significant changes found in Articles 500-820 (excluding article 690) of the NEC including:


Equipment for General use


Special Occupancies


Special Equipment


Special Conditions


Communication Systems


NOTE:
This course is accessible on desktop computers or mobile devices. Internet Explorer is not supported.
INSTRUCTIONS:
After signing in, you will receive an email with the information to access your online course. Once it has been completed, you will receive another email containing your certificate of completion and renewal application to send to the State.
1 - 2017 NEC Changes Part 1 and 2
Login